Regular price
Sale price
$39.00 USD
Unit price
per
Sale
Sold out
Tap into your inner green thumb and whip up some amazing plant cookies with this intermediate Plant Babies online cookie decorating class! Learn to craft beautiful blossoming creations for your sweet cravings. Start your journey into cookie decorating now and you'll be flourishing in no time (wink, wink).
This class is for the intermediate cookier as we'll be covering a lot of piping techniques/line work, a good amount of detail and painting with metallics. We'll be decorating just like I would, so no cutting corners :)
***
This 3 hour class recording is delivered as if it was a live class, so you're transported right into my energy and will finish the class having completed the entire set of cookies.
By purchasing the class, you'll have access to the class recording, as well as a 71 page workbook to make this cookie journey as seamless and fun as possible. 
You will learn how to decorate (from start to finish) ELEVEN cookies:
Ficus
Fiddle leaf
Single cactus
Double cacti
Chinese Money Plant
Monstera
Elephant ear / Polly
Snake plant
Hanging pothos
Potted pothos
Aloe
Skills covered in this class:
One AND two consistency outline and flood
Working with tipless bags (and cutting tipless bags)
Flooding in sections
Bear technique
Wet on wet
Leaf piping with a tipless bag
Painting and splatter with gold metallic dust
Detailed line work
Several ways to be prevent craters
Two different wants to do basket weave
Crackle technique
For those curious, these are the cutters needed for the class (please note there are NO hand cutting guides in this workbook).  (The workbook also provides alternative cutter options, including options from Amazon.)
***
My classes are designed for success *no matter* how much experience you have with royal icing. Whether you've never touched it before or you've been working with royal icing for years, you are SURE to impress all of your friends and family with your edible creations thanks to my detailed instructions and warm approach! 
After purchasing the class, you will receive an email with a download link for the workbook. Included in the workbook is everything that you need to prep the icing and cookies for class, as well as the link to the class recording (housed as a private video on YouTube). 
Click here to check out FAQs for common questions about what's provided in the classes, etc.
Please note: there are no refunds, returns or exchanges, as the product (the workbook) is emailed immediately upon purchase. 
Share
View full details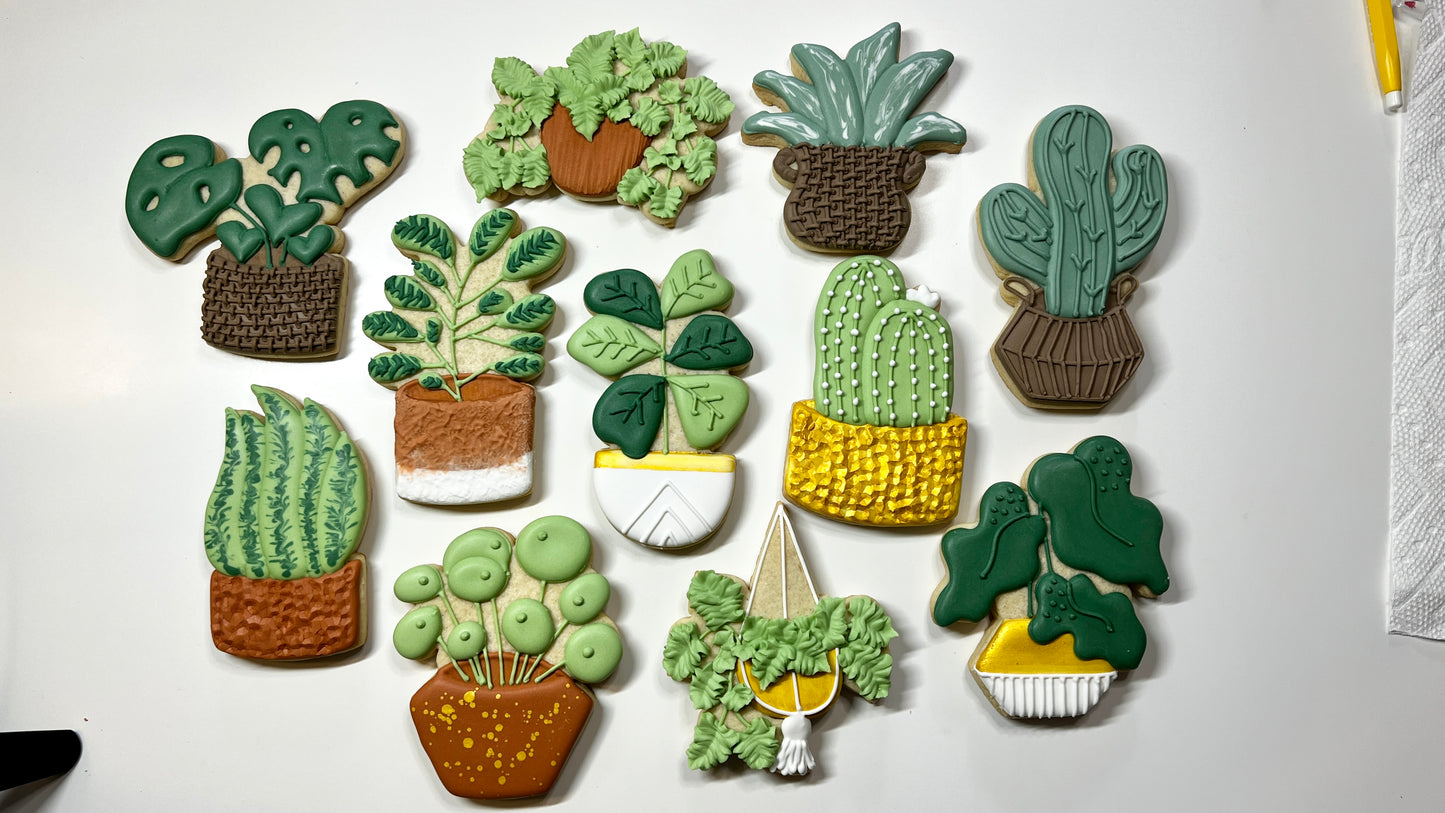 A bit more emphasis on the intermediate, but this beginner still managed
There are eleven plants, and several colors. Just making the colors took a while. But, Grace gives all you need to prepare for the class, in order, and the timeline to do each. She made it look easy, but I'd not be able to freehand as much as she does. I definitely need the edible marker to sketch out the leaves. The coolest part is that she shows you how to use different techniques on each planter. It's not only fun, but it will improve you repertoire going forward. I do appreciate the option for the shorter workbook. If you've bought one class, you already have so much of the basic information, which doesn't need to be reprinted. Very much worth the money. I also should say that there weren't any other plant classes when I signed up for this, and people thought it was adorable.
An awesome step up - loved this class!
I took this class as my 2nd go at cookie decorating after doing Grace's Funky Flower class. As usual, Grace made a fairly complex project easy and the output was amazing! This is a slightly more complicated class with different textures, decorating styles and icing thicknesses - but you really get amazing exposure to many different decorating styles. I brought these to work and everyone was blown away, Grace will really teach you a very high level of decorating skills in just a few hours!
Why can't my real plants look this good?
This was such a fun and rewarding class for someone who considers themselves an advanced beginner! Despite feeling personally victimized by a difficult monstera plant (anyone else struggle with free handing?) this class was so enjoyable to finish. The PDF workbook and step by step video tutorial ensured that students were set up for success with a class that required a lot of prep work and decorating time. Personally, as an advanced beginner, I found myself pausing the video quite a bit to keep up with Grace's pace for this class, so it did take me longer than the 3 hour youtube video play time to complete. Also, when Grace says to only do one type of plant cookie each in the workbook, she means it! Learn from my mistakes and skip the duplicates if you are on a decorating time crunch.