Regular price
Sale price
$29.00 USD
Unit price
per
Sale
Sold out
Unlock your inner baker this fall with our Beginner Fall Online Cookie Decorating Class. Get your hands frosting-ready and ready to roll with this beginner-friendly tutorial that's sure to sweeten up your baking skills. Perfect for all ages, this class will leave you with the confidence to decorate like a pro in no time! (Just try not to eat all the dough before you start decorating...)

This set was designed with at-home beginner cookiers in mind, so it uses just 4 colors and just ONE consistency! Fewer colors and icing consistencies means less time prepping and less money spent on supplies. Now that's what I call a beginner class!
Love this set of cutters? Try out the advanced beginner version of this set! It's the exact same set of cutters, with different designs, techniques and color palette. Check out the class here.

***
This 1 hour class recording is delivered as if it was a live class, so you're transported right into my energy and will finish the class having completed the entire set of cookies.
By purchasing the class, you'll have access to the class recording, as well as a 51 page workbook to make this cookie journey as seamless and fun as possible. 
You will learn how to decorate six (6) different classic fall designs:
Pumpkin 
Pumpkin Pie 
Mug 
Scarf
Sweater 
Leaf
Techniques we'll cover in class:
One consistency outline and flood
Working with tipless bags
Piping and flooding with a thick flood
Different wet on wet technique applications 
Flooding in sections
Crackle technique  
Click here for the cutters used in this class. (The workbook also provides alternative cutter options, including options from Amazon.)
***
My classes are designed for success *no matter* how much experience you have with royal icing. Whether you've never touched it before or you've been working with royal icing for years, you are SURE to impress all of your friends and family with your edible creations thanks to my detailed instructions and warm approach! 
After purchasing the class, you will receive an email with a download link for the workbook. Included in the workbook is everything that you need to prep the icing and cookies for class, as well as the link to the class recording (housed as a private video on YouTube). 
Click here to check out FAQs for common questions about what's provided in the classes, etc.
Share
View full details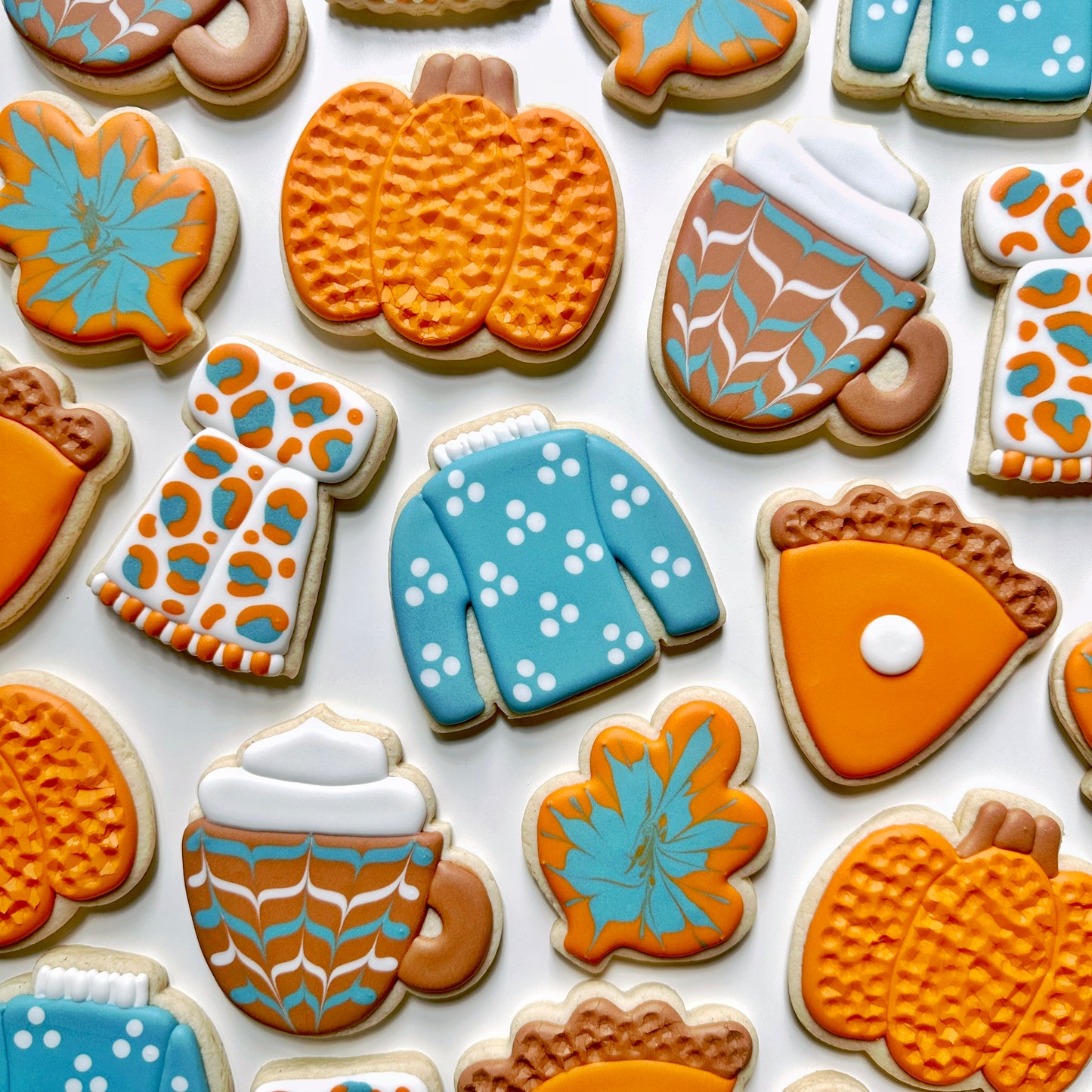 Never could have done this without Grace
I have always been envious of the adorable cookies, yet I hated the price I had to pay and the lack of flavor they had. I found this class and decided to see if I could make the adorable cookies but hopefully with flavor and man oh man did this class deliver! Her cookie recipe holds its shape and is yummy and the lemon royal icing (which I was totally doubting before I tried it) has so much flavor. She is right-it's like a sweetart cookie! Her directions and humor were helpful and now I feel like I can conquer ALL the cookies (that might have been a bit of excitement speaking), but I am ready to do more and I know you will be, too! This class is 100% worth it!